The importance of HSE
It is essential for us that our employees have a safe and secure workplace. We therefore think of health, safety and the environment (HSE) in every part of our housing projects.
As one of Norway's leading housing developers with around 1,000 new houses built annually, we are highly focused on our employees' safety, health and working environment. This applies to all parts of our housing projects, from planning and design to execution of work at the construction site.
A sharp reduction in injuries
In order to map the risk-prevention work, we have divided injuries into two categories. H1 injuries describe the number of injuries involving sickness absence, while H2 injuries are injuries in which medical treatment has been administered, with no sickness absence.
There is no question that the significant focus in this area at Block Watne has yielded results. We achieved an H1 value of 1.55 in the third quarter of 2019, which is a sharp drop compared with the H1 value in the same period in the previous year, i.e. 6.2.
"This H1 value demonstrates that what we are doing works, and we are very proud of this. Construction sites are much safer than they have ever been," says Head of HSE at OBOS Block Watne.
A strong safety culture
At OBOS Block Watne we particularly focus on reducing sickness absence, the frequency of strain injuries, as well as accidents and incidents on construction sites. We therefore place emphasis on training, procedures and workplace adaptation, as well as making provision for alternative forms of work rather than sickness absence, where this is relevant.
In recent years we have worked actively on developing a strong safety culture. This has involved, for example, a strong focus on "the Critical Five":
Working at height
Hazardous energy
Machinery safety
Machinery guards
Suspended loads
Since 2015 HSE work has been high on the agenda, which has resulted in a significant reduction in the amount of sickness absence (H1). The graph below shows the development from the first quarter in 2015 to the third quarter in 2019.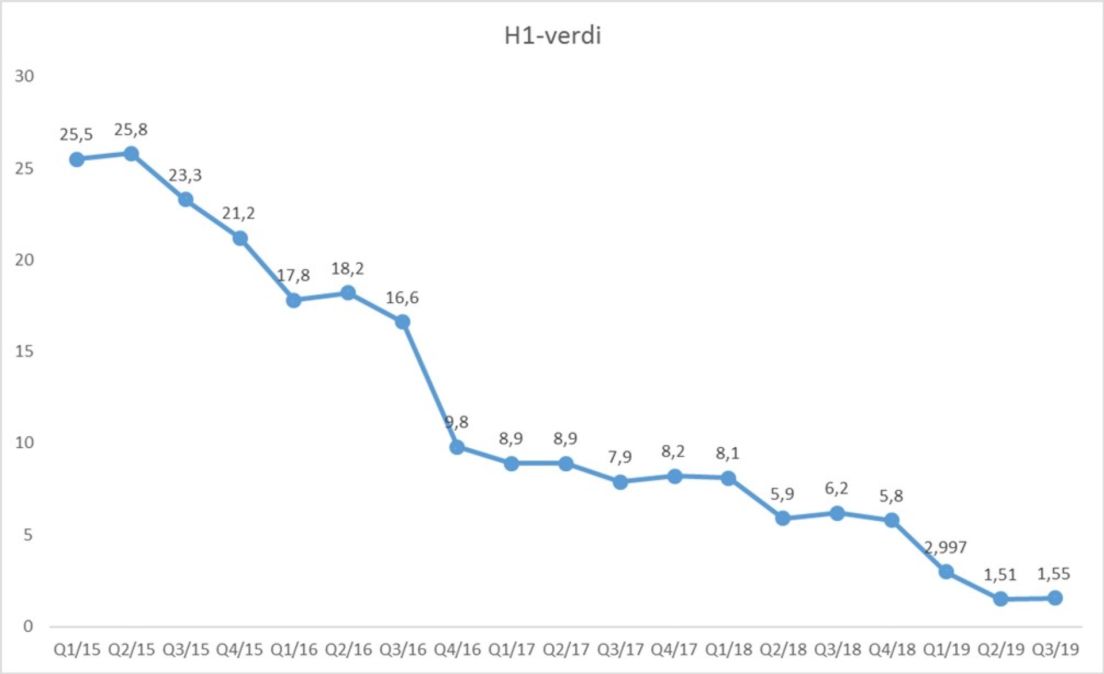 Well-being at work and reduction of sickness absence
OBOS Block Watne aims to be a happy workplace. We hold regular performance appraisals and courses, and we offer excellent opportunities for further training, which helps ensure a good working environment and the right conditions for personal development.
We conduct targeted work on the prevention and follow-up of sickness absence. Health and safety officers conduct annual safety rounds in all departments and closely follow-up in all safety areas.
Any findings are always followed up in meetings of the works council and the working environment committee. Through targeted work on prevention and follow-up, sickness absence shall be kept at a low level.
HSE is always the first item on the agenda
HSE is very important to us and it shall permeate the company. HSE is always the first item on the agenda in management meetings, internal conferences and operational meetings. Also, a bonus reduction scheme has been introduced in the event of serious deviations in safety on construction sites.
We make unannounced HSE inspections of all district offices, and frequent meetings are held with representatives of both employees and management. The focus here is only on HSE; any incidents are evaluated; incidents on construction sites that result in injury involving sickness absence are reported and additional measures implemented.
A good place to work for apprentices
At OBOS Block Watne we ensure that up-and-coming carpenters have the most optimal conditions for a long life in the profession.
What is most important for us is that our apprentices feel secure. They will enter a system that has good procedures, the safest working conditions and the most competent people in the business. By gaining insights into the construction process from A-Z, they will gradually become familiar with our operations and work out what they like doing the most.
Up-and-coming carpenters will be looked after properly. They will enjoy good working conditions and will be treated the same way as the rest of our carpenters in accordance with the HSE requirements we have stipulated.
The road ahead
We are continuously working on HSE and our goal is zero errors, zero personal injuries and zero non-conformities during inspections by the Norwegian Labour Inspection Authority. At OBOS Block Watne we want all employees to feel assured that their safety, well-being and personal development are being addressed every single day of the year.
Our work on the UN's Sustainable Development Goal 3 Good health
The goal concerns:
Ensuring healthy lives and promoting well-being for all at all ages
What we do:
OBOS Block Watne works actively with HSE and uses a high volume of resources to ensure that its own employees, subcontractors and suppliers can return home from the construction site free from injury.
9 Innovation and infrastructure
The goal concerns:
"Build solid infrastructure, promote inclusive and sustainable industrialisation and contribute to innovation."
What we do:
Block Watne has a strong focus on innovation and on identifying new, sustainable solutions at every stage of the construction process.