A green strategy for the future
OBOS Block Watne works actively for the climate and the environment. Read more about our environmental work here.
As part of the OBOS Group, OBOS Block Watne takes its green responsibilities seriously. This means that we will:
Be climate neutral in office operation by 2021
Take eco-friendly buildings "one step further"
Use clean power
Reduce waste on construction sites on selected projects
Make provision for solar cell panels and projects
Be integrated in selected UN Sustainable Development Goals
Established environmental measures
We have long-standing experience of building turnkey timber houses from the bottom up. OBOS Block Watne is an ISO 9001-certified enterprise which, over the years, has established a number of environmental measures in order to meet the goals we have set ourselves. A certification scheme suitable for construction sites is being drawn up. We are introducing specific environmental measures based on ISO 14001. We will be environmentally certified in autumn 2019.
Eco-friendly materials and recycling
OBOS Block Watne focuses on the energy and environmental perspective through its choice of construction methods, materials and solutions from subcontractors.
"We build houses with timber structures, which are an eco-friendly material. This is an entirely conscious choice on our part. The insulation we use is made from recycled glass, and we use interior cladding that emits no gases. We source separate all waste produced on a construction site so that it can be recycled," says Benth Eik, Managing Director of OBOS Block Watne.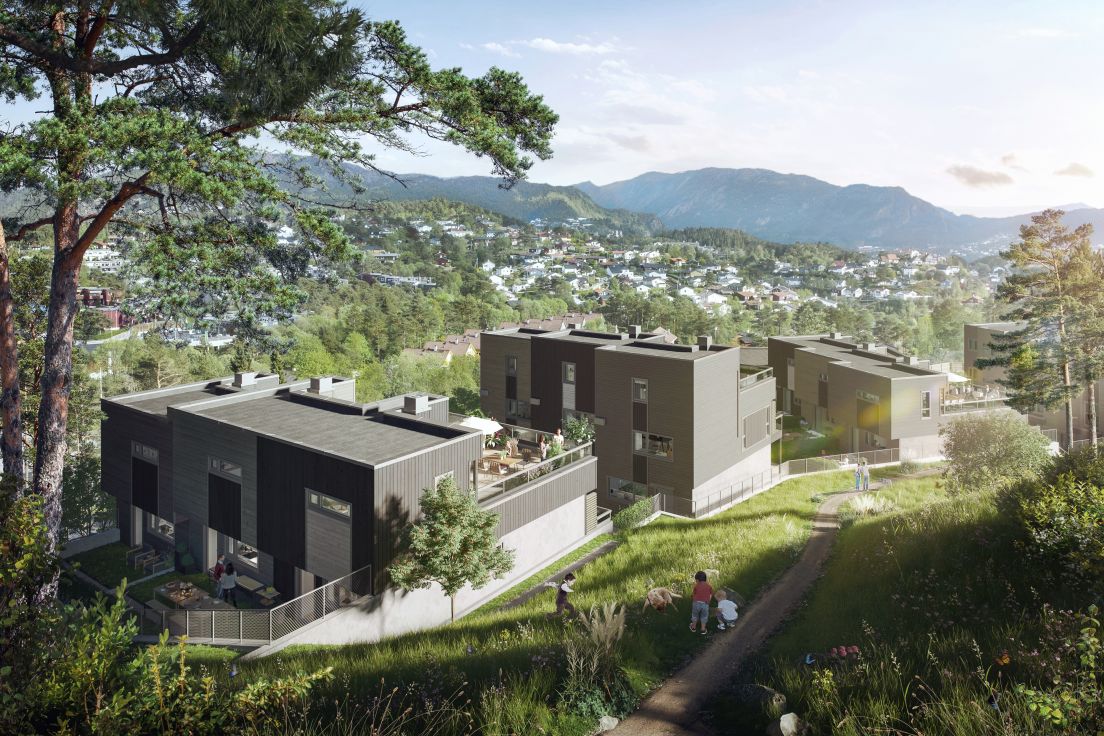 Energy certificate for each house
Environmental measures are drawn up for each project. The report covers information concerning environmental data and energy consumption. The annual energy consumption of the houses is derived from specific heat loss and energy calculations that form part of the overall documentation for the house. Customers receive an energy certificate when we hand over the house.
"This work is really important to us. We want to adopt a green approach, and our customers should be in no doubt that this is key to everything we do," says Eik.
Working in accordance with the UN's Sustainable Development Goals
OBOS Block Watne is focusing on ensuring that its work is integrated into the UN's 17 Sustainable Development Goals. This entails the following:
Good health: OBOS Block Watne works actively on HSE and uses considerable resources to ensure that its own employees will return home from the construction site free of injury.
Proper training: OBOS Block Watne has around 35 apprentices and a dedicated apprentice coordinator. Special apprentice remuneration
Clean energy for everyone: OBOS Block Watne builds timber houses.
Innovation and infrastructure: OBOS Block Watne has a long tradition of innovating and using new materials, as well as innovating in construction techniques.
Responsible consumption and production: OBOS Block Watne makes great efforts to recycle building materials and, in the coming years, it will collect data in order to improve resource use on construction sites (working hours, material consumption and transport).
Flat packs: We transport flat-packed building materials to ensure that a minimal amount of energy is spent on building houses.
If you have any questions about OBOS Block Watne's environmental work, please don't hesitate to contact us via email.